We have been having so much fun reading the

Adventures of Rush Revere Book Series

from

Adventures of Rush Revere #1 New York Times Bestselling Book Series by Rush and Kathryn-Adams Limbaugh

. This book series has been a fun journey in learning history while enjoying an entertaining story. I have learned in our house that the best way to get retention and learning in history is to use autobiographies and entertaining stories like this series.
The books came packaged so nicely with a tied up ribbon. There are 5 books in this series. The hard backed books are of very nice quality. The book jackets are very nice and colorful and the pages of the book are of a very heavy duty and glossy type paper. These are books you will want to keep as part of your library for some time to come to use with the whole family.
Rush Revere is a comical character with his trusty horse Liberty. The two of them along with the Time-Traveling Crew (Freedom, Cam and Tommy) go on many adventures through time learning about our United States History. Liberty was struck by lightning and appeared in the present day and allows Rush and his Crew to travel back in time. Liberty has a comical sense of humor and is able to make himself appear invisible by camouflaging himself into his surroundings.
The books are an easy read and I would recommend for ages 8-12. As an adult I am really enjoying the series so of course older children would also enjoy the content. We choose to read these as read-alouds but my son would also pick it up on occasion and read on his own. I would of course have to go back and "catch up" when he did this. We have not completed the series yet due to "life occurrences" while we were working on this review (grandpa visited for a week among other things). We would take about a week and a half or so per book. My son is a slow reader and would probably easily complete a book per week. An avid reader could complete in a day or two.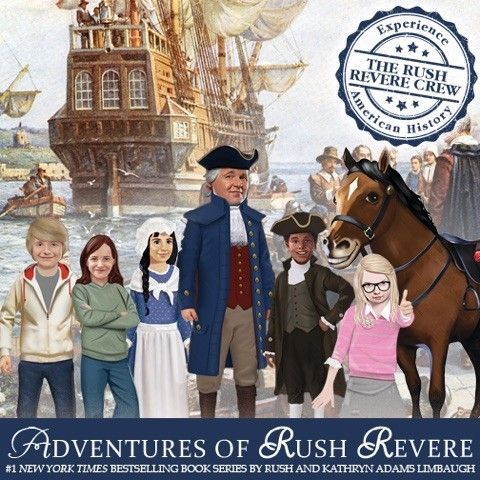 The series consists of:
Rush Revere and the Star-Spangled Banner

Rush Revere and the American Revolution

Rush Revere and the Brave Pilgrims

Rush Revere and the First Patriots

Rush Revere and the Presidency
While reading the Star-Spangled Banner we learned so much more about our history. While going on a field trip to Washington D.C. the Crew learned all about the nations capital, our constitution and the Bill of Rights. Who is James Madison, Francis Scott Key or Betsy Ross? What did they do and why are they important? What is the meaning behind the song this book is named after? Answers to these questions and so much more history were covered in this book.
I also really like that there are pictures throughout the books. Pictures of characters mixed in with real life pictures of actual monuments and places.
In Rush Revere and the American Revolution follow Rush, Liberty and the Crew as they travel back in time to visit Paul Revere and learn about the battles of Lexington, Concord and Bunker Hill. Cam learns to deal with his anger towards the fact that his dad is away serving in Afghanistan. His mother, Danielle reaches out to Rush to ask him to help him understand. Through all their adventures, Cam does come to understand and have a new respect for what his father is doing.
Travel back in time again to be aboard the Mayflower and learn about the Brave Pilgrims, Thanksgiving, Plymouth Rock and the history surrounding it all. Who are William Bradford, Elder William Brewster and Myles Standish? What was life like on the ship? What is the Mayflower Compact? It's a must read to find out!
Rush Revere and the First Patriots takes you back in time to British Rule and why our Patriots fought so hard for their freedoms. What were the 13 colonies and who were Samuel Adams, Ben Franklin and Patrick Henry? What is the King's Stamp Act and why were the colonies opposed to it? What was the Boston Massacre? Learn about the Boston Tea Party and what the Intolerable Acts was. This book has some overlapping themes that will help reinforce what was learned in some of the other books.
The last book on the Presidency covers the time of the first three presidents of the United States. Learn about what went on during their time in office and about their wives and families. How decisions they made were important to the stabilization of the freedoms that had been fought for and how elections back then differed from today's elections. Learn about the Louisiana Purchase and how it greatly expanded our territory.
I have nothing negative to say about these wonderful books. They were easy reads that were entertaining and kept the attention of my 13 year old. I enjoyed reading them myself and reliving parts of history in a fun and comical way. Rush and Liberty keep you on your toes and a chuckle on your lips as you read through history.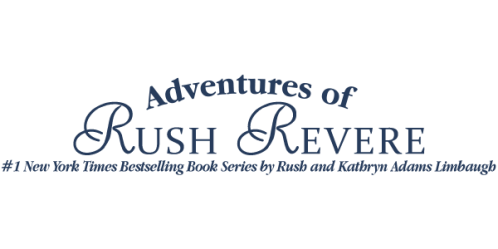 Please be sure to check out the other reviews by clicking on the banner below.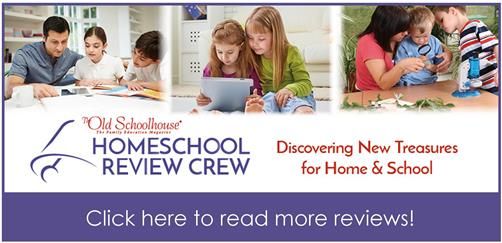 +