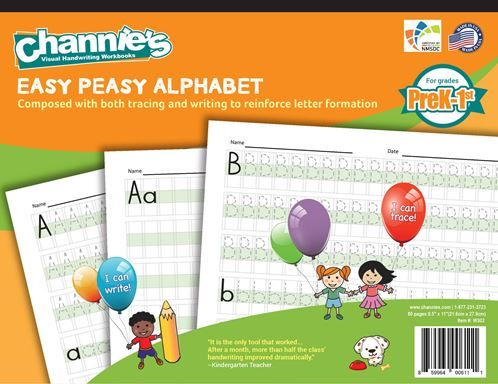 If you have a Pre-K to 1st grade student who is working on their letters and writing then you might want to check out

Easy Peasy Alphabet

by

Channie's Visual Handwriting & Math Workbooks

. I am glad we had the opportunity to review this product. I am using it with my K4 daughter to reinforce her letter writing. I really could have used it with my son when he was younger. He had such a hard time regulating his letters and lining them up and writing neatly. He was also always so confused with all the lines. Even though the middle line was dotted and often red in color, there were just too many lines for his vision. He STILL has problems even now in the 8th grade with his spacing and letter alignment (He is slightly dysgraphic and writing does not come easy for him).
On the back of the cover page is the whole alphabet with
directional arrows for proper letter formation
I really like how they design their paper. It has 3 levels for forming letters with the middle level (row) being
shaded
. The shaded portion is the main level to form lower case letters on. The upper level allows for capitalization. The lower level allows for lower case letters below
level
such as "p" and "q." Visually I think this works better than just the dotted red middle line that is normally used and seen in early handwriting paper. There is just something about the shaded portion that seems to work better and make more sense. I think because it is easily visible as opposed to just having a bunch of lines on a page. The shaded portion stands out and is easy to see as your child forms their letters and helps them on proper placement of letters. There are also vertical lines to help them in letter spacing. This is so huge! This is what my 8th grader continues to have problems with. He just can't get the spacing down for some reason.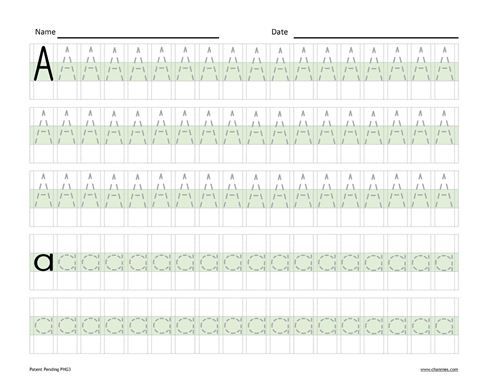 I like that she gets to practice writing her name on each sheet
(she got a little creative with this one LOL)
I like the style of the pages where the first two pages of every letter have the upper and lower case letters with tracing lines and the third page of each letter has just blank, shaded lines for them to practice more on without the help of the tracing lines. At the end of the workbook, there is also one page of numbers 1-9 for number practice.
First two pages of every letter have tracing lines to practice
Third page of every letter has blank shaded lines for further practice
I also really like the other workbooks they offer. It was a hard decision to choose between

Easy Peasy Alphabet

and

My First Letters workbook

. The First Letters workbook also has pictures to color and in hindsight might have been a better choice for my creative wonder! Either way, we really like these workbooks and we will continue to use these in her writing practice. I recommend

Easy Peasy Alphabet

over the traditional color dotted line papers used for writing practice. I believe the way these are set up with the shading and vertical lines better shows the kids how to keep their writing even and neat.

You can connect with

Channie's Visual Handwriting & Math Workbooks

on

FACEBOOK

. I recommend you check out the other workbooks they offer for Pre-K through 3rd grade (listed as ages 3-10 on the website). Make sure you also check their shop out on their website for many more workbook and handwriting help options including
dry erase and magnetic
boards.
You can get more information and reviews on each of them by checking out the other reviews by my fellow Review Crew members below.