Need a good idea for something different for a Halloween Tract this October?

Let the Little Children Come

may have just the answer with their

Is There Anything Better Than Candy? Box-Tract

. These can be used in so many ways from passing out at your door, during a trunk or treat event, at a youth event or even to your preschool or elementary group to encourage them to share the Gospel message with a friend.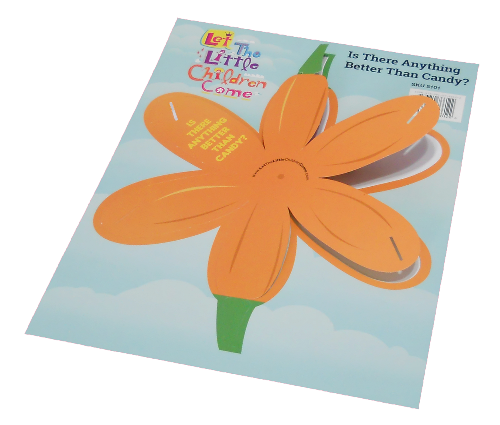 These cute little 3D tracts come in a package of 20 sheets (20 pumpkins). The little pumpkins are easily assembled with the included instructions. They are quick and easy to use. You simply assemble and stuff with candy or goodie of your choice. They can easily hold 6 - 8 pieces of small candy (more or less depending on size and type of candy). The paper is a light cardboard type that is durable enough to assemble and hold the candy just fine. The pumpkin is precut and easily punches out and the slots that are needed to put it together are all pre-punched also.
I really like that they are interesting, catch your eye, and have a Gospel message inside to boot! The kids will be attracted to the shape and candy. When they disassemble the pumpkin to retrieve their candy they will see the wonderful Gospel message shared with them. The message is numbered and multicolored for more visual attraction.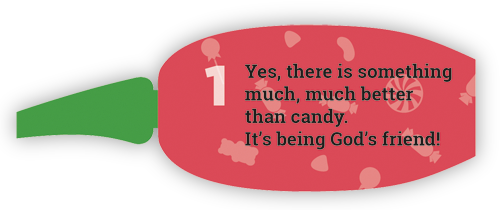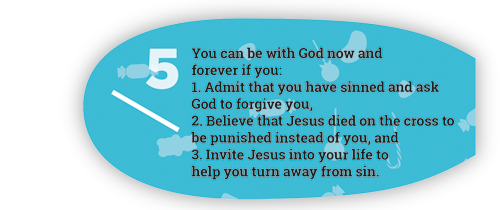 As the recipient reads through the message they will be walked through the plan of salvation that ends in a prayer to receive Christ as their Lord and Savior.
Putting these together is a fun activity for your kids to participate in. There are so many ways they can be used. We plan to use ours at our trunk or treat event that our church hosts each year. If you are looking for a neat alternative to a Halloween Tract, then I recommend that you check out

Is There Anything Better Than Candy? Box-Tract

from

Let the Little Children Come

.

You can connect with

Let the Little Children Come

on

FACEBOOK

.
See what my fellow Crew Review members also have to say about these neat little evangelism tools.